Main information:
Information for people with a handicap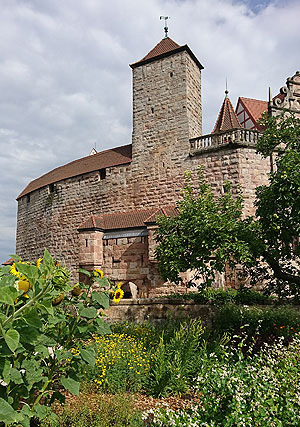 Outside area
In the courtyard of the bailey where the public is not normally allowed to park, there are two designated disabled parking spaces right after the gateway building, on the right by the "Altes Schulhaus" (Old Schoolhouse).
From here there is an easily negotiable path across the flat granite paving to the entrance building for the museum on the neck ditch (distance approx. 100 m) and from there into the inner courtyard to the exhibition rooms of the Old Palace. In most of the places with a height difference, there are gently sloping ramps between the courtyard and the building.
Otherwise there is only limited access to the bailey and in particular the castle garden for wheelchair users (cobblestones, steps, lawns etc.) The entrance to the walled garden is only about 75 cm wide.
Barrier-free WCs can be found in the entrance building in the bailey and in the main castle, in the ground floor museum section of the Old Palace.
Exhibition rooms
The exhibition in the castle is an experience for all the senses; there are several exhibits that can be touched, heard and smelled. Near the ticket office there is a tactile model of the Cadolzburg.
With the exception of one small chamber and the chapel rooms, which are only accessible via narrow steps and narrow corridors, the exhibition rooms in the Old Palace are barrier free. The two levels of the ground floor have been connected with a modern ramp, so that the imposing Ox Chimney, the former castle kitchen, which is below the level of the courtyard, is also accessible for wheelchair users.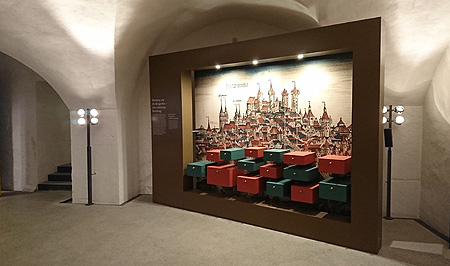 The four floors of the museum are connected via a lift. In the historical castle, however, it was not possible to apply all the usual standards for a new building. The lift cabin, for example, measures 120 cm x 80 cm. The width of the passage to the lift that goes up in the castle wall is 75 cm at its narrowest point.
For visitors with visual impairment there is an acoustic announcement in the lift. There is a multimedia guide for the exhibition in the castle; a sighted person is required to operate the guide (touch screen).
For the hearing impaired there are induction loops in the entrance area at the cash desk and in the event room (Oriel Hall) on the 3rd museum level. Portable induction loops are also available at the cash desk, which enable the multimedia guide to be used in conjunction with hearing aids. The exhibits are extensively labelled and additional information in written form can be purchased in the museum shop.
Our employees at the local office will be pleased to help you if you require information when preparing your visit. We are available to assist and advise you and we take the particular needs of visitors with disabilities into account, to enable you to visit the exhibition and experience it to the full.